File properties window is hidden by default and located at the right part of Main window. But at any time you can unselect "autohide" or float File properties window at any place you like.
With the help of this window, at any time you can get full information about currently selected Flash file: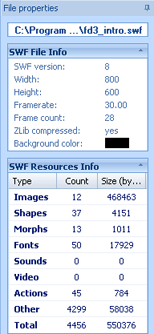 Here you are able to see location of selected SWF/EXE file, its version, size, frame rate, compression, background color and extended resources information, like number and size of objects (images, shapes, morphs, fonts, etc) used in current Flash file.