Flash Decompiler can now convert Adobe Flex files. Remember, that Flex files are created by Adobe Flash Builder, therefore they cannot be converted into FLA. Flash Decompiler will create a Flex Builder project, and you will need Adobe Flash Builder software to edit such project. You will see a pop-up window with this information before converting Flex files: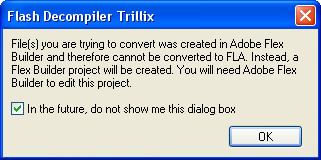 For your convenience, while working with a file, you can see whether it is a Flash or Flex file. There will be 

or

icon to the left of the file name in My tasks list.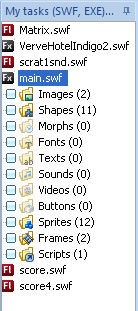 Note: You can change conversion settings for Flex projects. However, only ActionScript settings are applicable to Flex files. Customization of the rest of the settings (Motion tweens, Objects and Text) won't influence the resulting file.

Remember, ActionScript is not included in the resulting Flex project if you are using Demo version of Flash Decompiler Trillix.