New SWF & FLV Player provides long-expected and highly demanded feature such as browsing on-line Flash animations at the specified web address; preview, add to playlist and save (in PRO version only) chosen SWF/FLV files as well as get additional information about found Flash files (URL, file size, external resources).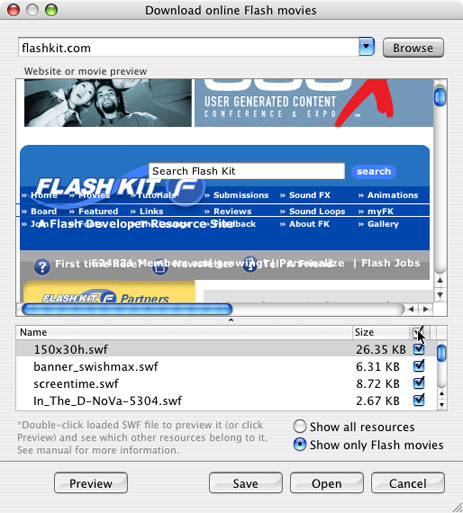 In order to browse on-line Flash animations, please, do the following:
Select File -> "Download online Flash movies" option from the Main menu.
In popped-up dialog window type web address in the topmost text field and click "Browse" button.
Now you can see the whole site in "Preview" window. Double-click a SWF/FLV file you need to preview it. Besides you are able to preview the required Flash file by clicking "Preview" button. This will help you to find the exact file you need.
Choose any file (-s) in the "SWF file list" you want to save by putting a tick in the checkbox. For your convenience you may choose either "Show all resources" or "Show only Flash movies" option. Click "Save" button to save a SWF/FLV file you need (available in PRO version only). "Save" button invokes the dialog that lets you navigate to the folder where you want a SWF/FLV file to be stored. SWF & FLV Player can save a file even while it is being played. When the process of saving is started, there appears a window showing the progress of resources download.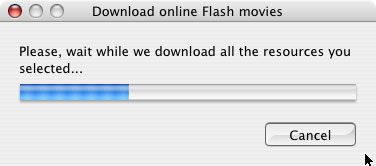 Once the file is saved, it is added to playlist.
Click "Open" button to play a SWF/FLV file without adding it to playlist.
Moreover, you may check whether the downloaded SWF file requires external resources. Simply double-click any file in the "SWF file list". Now, if the arrow marker appears in front of the file name, click it to expand the tree and find out what other resources it requires to be played correctly.