Virtual Serial Port Driver Options can be customized in Main menu –> Options: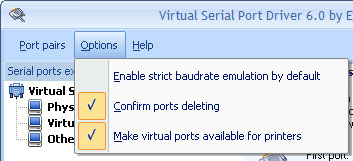 Enable strict baudrate emulation by default – Strict baudrate emulation will be enabled by default when creating new ports pairs.
Confirm ports deleting – Confirmation window will be invoked after you click "Delete" or "Delete all" button.
Make virtual ports available for printers – This option lets you connect printer to any created virtual port ("Print Spooler" service or Windows restart required). This is achieved by registering virtual serial ports in Windows Registry, so that they can be selected in Add Printer Wizard.