---
Folx gives you the ability to edit any torrent file on the go:
After you've created torrent file, uploaded it to tracker and started seeding it, you may want to change some torrent details.
Or you may want to edit the torrent that you are downloading right now, or even the torrent you are already seeding.
To edit a torrent file, right-click it in the list and choose "Edit Torrent File" option from the context menu. Let's have a look at torrent settings that you can edit: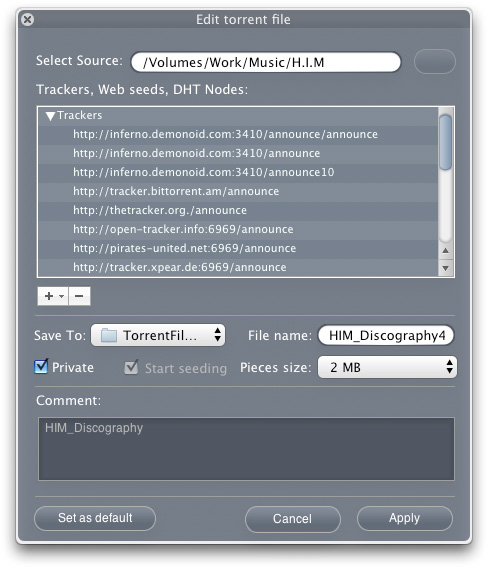 1. You can add or remove Trackers, Web seeds and DHT Nodes:
Trackers – A tracker is a server on the Internet that coordinates torrent clients' actions. When you open a torrent, your computer contacts the tracker and asks for a list of peers to contact. Sometimes a torrent file may be distributed by several trackers. Specify other trackers, if you know them. It is usually done to increase download speed.
Web seeds – Web seeding is the ability of torrent clients to download torrent pieces from an HTTP source (via a web server) in addition to the swarm. The advantage of this feature is that a HTTP server works as a peer. Web seeding simplifies seeding greatly.
DHT nodes – when creating a torrent, you can add DHT (Distributed Hash Table) nodes to it, i.e. the list of hosts' IP addresses or names, so that it will be possible to find peers when torrent tracker is down.
Use + or – buttons to add/delete trackers, DHT nodes or Web seeds:
2. You also can disable DHT (Distributed Hash Table) and PEX (Peer Exchange) by checking "Private" checkbox. Thus you will not have any other peers' sources, but the tracker only. That also means you cannot get the torrent data if the tracker is down/unreachable.
3. You also can edit your comments (file description). Comments that you add are displayed in Downloads list in "Comment" column (in case you are downloading). Comments are also displayed in Folx torrent properties ("General" tab).
You also can see your comments in Spotlight comment which is added to the task after it is downloaded. Select a completed download task in Downloads list. Right-click it and choose "Open in Finder". Then right-click the required file/folder, choose "Get Info" and view Spotlight comment.
If a tracker supports displaying comments for torrents, they will be visible in a tracker's "Comments" field (in case you are uploading).
4. Finally, after you've customized all settings, click "Apply" button.
5. The .torrent file should be reloaded after editing to apply changes (in case you are uploading).
---